Family Special Screenings
The ultimate treat for you and your little movie buffs.
Every Saturday and Sunday, enjoy a family favourite for just £5.75 a ticket.
Our Family Special screenings continue from Monday to Friday throughout school holidays and on bank holidays.
Please be aware these screenings are designed for parents and carers with families and young children.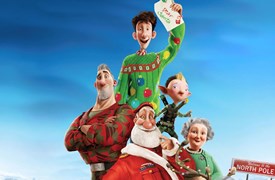 1h 38m | U
Santa and his army of highly trained elves produce gifts and distribute them around the world in one night. But, when one of 600 million children to receive a gift from Santa on Christmas Eve is missed, it is deemed 'acceptable' to all but one - Arthur.
2h 27m | 12A
As Harry, Ron and Hermione race against time and evil to destroy the Horcruxes, they uncover the existence of the three most powerful objects in the wizarding world: the Deathly Hallows.
2h 10m | 12A
Harry, Ron, and Hermione search for Voldemort's remaining Horcruxes in their effort to destroy the Dark Lord as the final battle rages on at Hogwarts.
1h 40m | U
Snuggle up in your favourite pyjamas and join us for a magical adventure! A young boy embarks on a magical adventure to the North Pole on the Polar Express. During his adventure he learns about friendship, bravery, and the spirit of Christmas.
1h 6m | U
Join Baby Shark, Pinkfong, and Hogi in their exciting new adventure as they set out to create the most delicious ice cream in the world! Just before the final touch, the perfect topping, Gingerbread Man dashes away